Placodus

'An artist's representation of Placodus.'

Distribution

Germany

Classification

Sauropterygia, Placodontia, Placodontoidea

Meaning of name

Flat toothed

Named by

Agassiz, 1833

Time

Anisian to Ladinian stages of the middle Triassic

Size

3 metres (10 ft)

Lifestyle

Shellfish-eater

Species

P. gigas
Placodus was a placodontid from what is now Germany.  It lived during the middle Triassic.
Like 
Paraplacodus, Placodus
 had protruding teeth at the front.  However they are shorter, thicker and more spoon-shaped.  The crushing teeth are not confined to the edges of the mouth but form a broad pavement across the palate, and the skull is particularly strng to withstand the stresses of crushing seashells.  A row of bony scutes forms a jagged ridge along the back.  A gap at the top of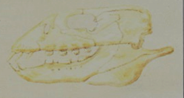 the skull may have held a light-sensitive organ.
When the teeth were first found in 1830 the ichthyologist Louis Agassiz misidentified them as fish teeth, and gave the name Placodus.  Richard Owen, in 1858, recognized them as reptile teeth.