Paraplacodus

'An artist's representation of Paraplacodus.'

Distribution

Northern Italy

Classification

Sauropterygia, Placodontia, Placodontoidea

Meaning of name

Almost Placodus

Named by

Peyer, 1931

Time

Anisian to Ladinian stages of the middle Triassic

Size

1.5 metres (6 ft)

Lifestyle

Shellfish-eater

Species

P. broilii
Paraplacodus was a placodontid from what is now Italy.  It lived during the middle Triassic.
Description
Edit
Paraplacodus was typical of the placodontids.  The species lived in shallow seas and lagoons at the edge of the Tethys Ocean and fed from the banks of shellfish that grew there.
The jaws of 
Paraplacodus 
are uniquely adapted to picking up shellfish, with three pairs of protruding teeth in the top and two in the bottom.  The teeth project from the front of the mouth.  They have a series of rounded crushing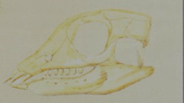 teeth in the upper and lower jaws.
The thick ribs produce a distinctly box-like body with an almost square cross-section, a strong set of belly ribs forming the flat floor of the body - a heavy design that kept it close to the sea bed.